adidas is quite aggressive in claiming that other marks, especially those used on apparel and shoes, that feature two or three or four stripes infringe its three stripe design.
Earlier this year, adidas filed Notices of Opposition to a pair of USPTO applications for the uniform design configuration of the football team of The Ohio State University.  The uniforms look like this: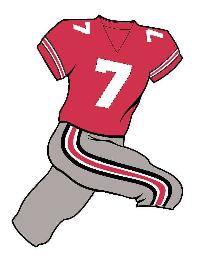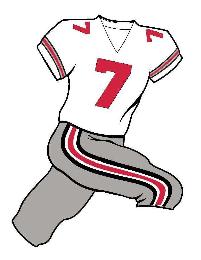 The description of the red top uniform in the USPTO states: "The mark consists of a football uniform, including a jersey and pants. The uniform includes a jersey with a red body showing white numbers that appear in dotted lines on both the chest and the shoulders of the jersey. The numbers are not claimed as a feature of the mark and are only used to show placement of the numbers. The jersey also features a stripe pattern wrapping around each sleeve that consists of the following colors in the following order: black, white, red, white and black. The uniform also includes gray pants with a stripe running down the side of both legs that consists of the following colors in the following order: black, white, red, white and black. The drawing is a two-dimensional representation of the mark, which consists of the design elements and configuration color scheme appearing on a three-dimensional football uniform."
adidas' Notice of Opposition alleges several claims, including that the uniforms do not function as service marks, that they were not properly in use, and that they are likely to cause confusion with and cause dilution of several of adidas' registered marks.
Then it got really interesting…. OSU has counter-claimed to cancel or partially cancel 10 registrations belonging to adidas on the grounds that OSU was using a "parallel stripe" design on uniforms long before any priority claimed by adidas.
I predict the sides will settle and each will keep their trademarks and registrations thereof.  But if OSU pursues the counterclaims it could be a fascinating case to watch. What do you think?